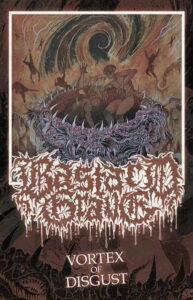 Available from our shop.
Helsingborg putrefactors BASTARD GRAVE have once again stewed up another foul taste with their third album "Vortex Of Disgust"!
With their bewitching and elegant sense of absolute rotten Death Metal, "Vortex Of Disgust" is remarkably the band's zenith; shaping the old form of tried-and-true Scandinavian Death Metal and coalescing into an unmerciful clobber of swamp-soaked riffs truely unique to BASTARD GRAVE.
– 100x transparent brown shell tapes with on body print, 4-pannel j-card printed on 170gsm paper, hand-numbered, incl. digital download.
Release date: 7th April 2023
Catalogue number: LYNCH054