Lycanthropic Chants presents a very Sick Feast to celebrate underground death metal and the 10th anniversary of CRYPTIC BROOD. Come and fester in the brood's headquater s.v. Jugendhaus Ost in Wolfsburg on 14th October 2023 and get ridden with a sonic disease: bands from all over Europe gonna hit the stage and pull the plug that draws you into an ugly Death Metal delirium!
Early bird tickets are available from Eventim at this location. They are on sale while we keep on announcing bands until the end of May 2023. Regular pre-sale tickets will be available then.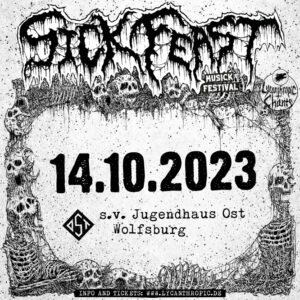 Keep your eyes peeled for the first announcement!
Confirmed bands:
BASTARD GRAVE (SWE)
CRYPTIC BROOD (GER)
EYEMASTER (GER)
+ more bands to be announced soon!
Artwork by tomorrowghost.
Layout by FINAdesigns.