Lycanthropic Chants is highly pleased to present the ANATOMIA + CRYPTIC BROOD "Infectious Decay" European tour!
2018.09.29, FIN/Helsinki @Ääniwalli (Facebook)
2018.09.30, GER/Berlin @Badehaus (Facebook)
2018.10.01, BEL/Brussels @Le Bunker (Facebook)
2018.10.02, GBR/London @Nambucca (Facebook)
2018.10.03, FRA/Paris @Le Klub (Facebook)
2018.10.04, FRA/Lyon @Hôtel de la Musique (Facebook)
2018.10.05, ITA/Milano @Rites Of Necrotheism Festival (Facebook)
2018.10.06, GER/Lichtenfels @Way Of Darkness Festival (Facebook)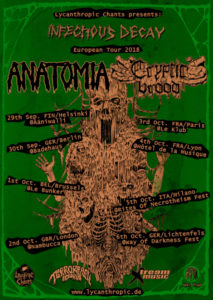 "Infectious Decay" is description enough to give this disgusting tour a proper name: Japan's most horrifying Death Metal outfit ANATOMIA joins forces with the mold loving creeps of CRYPTIC BROOD from Germany to deliver a week full of slimy and morbid tunes. The dismal events will take place from 29th September 2018 to 6th October 2018 …beware!
Poster art by Necromaniac Artworks.
ANATOMIA
Bandcamp
Facebook
Instagram
metal-archives
CRYPTIC BROOD
Website
Bandcamp
Facebook
Instagram
metal-archives
Lycanthropic Chants
Website
Facebook
Instagram
*The oiginal post from 19th July 2018 was updated on 3rd September 2018*