Am Donnerstag, den 8. August 2019 im s.v. Jugendhaus Ost in Wolfsburg:
THE ARSON PROJECT (Grindcore / SWE, Malmö)
HEXIS (Black Metal / DEN, København)
DECAYED (Sludge / GER, Wolfsburg)
Bands ab 20:00 Uhr (Veranstaltungsende spätestens 23:00 Uhr)
Kostet 5+ EUR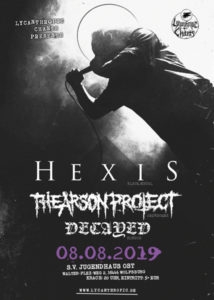 Na? Sommerloch vorüber, ab geht's wieder? HEXIS, THE ARSON PROJECT und DECAYED sind auf jeden Fall der beste Start in die Konzert-Saison des zweiten Halbjahres 2019. Diese Woche am Donnerstag, den 8. August 2019 geht's mit der bunten Mischung aus Black Metal, Grindcore und Sludge los. HEXIS sind wohl die derzeit fleißigste Black Metal-Band. Alleine diese Tour umfasst (nach meinem Stand) insgesamt 109 Konzerte. Echt stark für eine Band aus dem Untergrund! THE ARSON PROJECT waren im Juni 2010 bereits im s.v. Jugendhaust Ost in Wolfsburg zu Gast. Ich erinnere mich noch ganz genau an das Konzert – es war grandios. Getreu dem Motto "je oller, desto doller" erwartet euch neun Jahre später eine erst Recht furiose Überdosis an Energie! DECAYED ist eine neue Band aus Wolfsburg, die kommenden Donnerstag zum ersten Mal im s.v. Jugendhaus Ost auf der Bühne stehen wird. Ein Projekt zweier langjähriger Konzertbesucher. Ich freue mich! Der Krach beginnt um 20:00 Uhr, die Veranstaltung endet spätestens um 23:00 Uhr und kostet 5 EUR, gerne plus Spende.
Terminübersicht und weitere Infos wie immer unter www.lycanthropic.de
> 2019.09.04 – Wolfsburg @s.v. Jugendhaus Ost: ASSUMPTION (ITA) + GOD DISEASE (FIN) + REPULSIVE FEAST (GER)
> 2019.09.26 – Wolfsburg @s.v. Jugendhaus Ost: IN OBSCURITY REVEALED (MEX) + tba
> 2019.10.05 – Wolfsburg @Sauna Klub: MINENFELD (GER) + MARDRÖM (GER)
> 2019.10.24 – Wolfsburg @s.v. Jugendhaus Ost: ABYSSUS (GRE) + CRYPTIC BROOD (GER) + tba
I write your name on the black list
Steffen