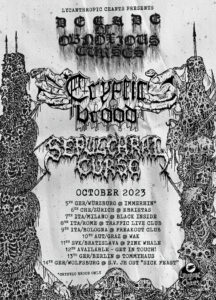 CRYPTIC BROOD and SEPULCHRAL CURSE join forces in a tour across Europe this October arranged by Lycanthropic Chants. While forging a brotherhood between the bands years ago at a Finnish mini tour, now both bands are celebrating a decade of existing and spewing forth Death Metal together. These nine dates of rot and chaos will culminate in Wolfsburg, Germany at Sick Feast 2023 with bands from all around the continent joining the night.
CRYPTIC BROOD has been a major force in the underground scene of Germany from its birthing. With a myriad discography of splits and EPs as well as two albums, numerous tours and gigs under their belt, the band has honed its style of repulsive sonic assault that will leave any witness lobotomized. CRYPTIC BROOD is one of those bands that are best experienced live and sweaty! Truly the harbingers of Rotten Metal of Death!
Finland has been the cesspool of unique Death Metal from the beginning of the genre and SEPULCHRAL CURSE is no exception. While having their backbone firmly in Death Metal, the band adds flavours and touches from other genres as well to create their own personal sound. SEPULCHRAL CURSE is on the eve of releasing their awaited sophomore album "Abhorrent Dimensions" and crowd will be blessed with new material as older songs. "Decade of Obnoxious Curses" is the first proper tour for SEPULCHRAL CURSE around Europe.
"Decade Of Obnoxious Curses" European tour October 2023, this is the routing:
05th GER/Würzburg @ Immerhin*
06th CHE/Zürich @ Ebrietas
07th ITA/Milano @ Black Inside
08th ITA/Rome @ Traffic Live Club
09th ITA/Bologna @ Freakout Club
10th AUT/Graz @ WAK
11th SVK/Bratislava @ Pink Whale
> > > 12th AVAILABLE – GET IN TOUCH! < < <
13th GER/Berlin @ Tommyhaus
14th GER/Wolfsburg @ s.v. Jugendhaus Ost "Sick Feast"
*CRYPTIC BROOD only