ROTTEN CASKET – "First Nail In The Casket" MLP and MC available for pre-order!
All pre-orders include a poster of the front cover in DIN A3 size.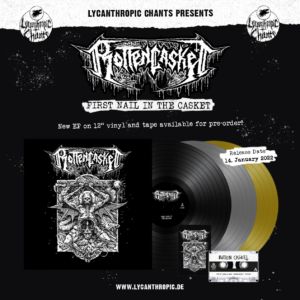 ROTTEN CASKET returns with a powerful release of pure death metal domination. 19 minutes of a classic sounding and without the slightest hint of pretension, "First Nail In The Casket" represents a masterclass in ancient death metal songcraft that is imperatively worth a praise.
Four tracks in length, these rotten-obsessed people distinguish themselves from other extreme bands with clever guitarwork and huge amounts of unique hooks that keep heavy things moving with a pleasing. Take "Bonetomb Residents" and "Coffin Birth" for some highlights, the guitar solo and song structure sounds utterly poetic. Those two songwriting freshly unearthed from six feet underground with otherworldly charm and solid foundation. The other two tracks that also heavily incorporate more melodicism while still maintaining filthy buzzsaw aggression will trap you into a sonic maelstrom of punishing death metal riffs.
The rotten death metal quintet has undergone a slight change in line-up since their first release "Simply Rotten Death" back in the year 2015. But with recent addition of vocalist Martin van Drunen and drummer Stefan Hüskens whom also playing with legendary ASPHYX, two amazing shredders Yorck Segatz from thrash metal icon SODOM, Patrick van der Beek on bass and remaining original member Frank Bergesson, this certainly pave the way for ROTTEN CASKET to an all new level towards masterpiece.
Now, come our way, let your death metal be rotten and dark, and most of all, let them blow you away!
The EP is available in the following versions:
12" vinyl, all versions have black poly-lined bags, 300gsm cover and 170gsm insert plus download code and are limited to:
100x black copies
99x golden copies
100x silver copies
…and there will also be a tape version:
100x clear shell tapes, 170gsm cover, hand numbered, free digital download.
Release date: 14th January 2022
Catalogue number: LYNCH032