Available from our shop.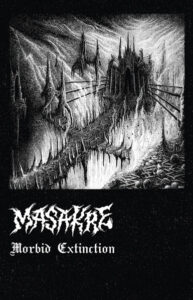 Indonesian Deathcrust upheavals MASAKRE unleashes the group's latest bombardment "Morbid Extinction", an EP of paramount and undeniably reeking in bloodthirsty nature
Right from the opener that sounds akin to a straight-up declaration of war, "Morbid Extinction" sounds absolutely immense and gripping; tiptoeing a thin line between Crust Punk and old school Death Metal and yet MASAKRE manages to churn out every riff with a fresh yet deadly perspective.
Release info:
103x red shell tapes, 300gsm cover, free digital download.
Catalogue number: LYNCH045
Release date: 1st July 2022