The dismal slow death of ANATOMIA meets CRYPTIC BROOD's rotten metal of death on one swampy piece of wax. Exclusive tracks by both bands. ~500 copies made, limited versions available:
100x transparent skull vomit green vinyl
97x bleached bone vinyl with different cover (available on tour only)
+free digital download.
The artwork was done by Thomas Westphal (Necromaniac Artworks).
Enshroud your corpse, infected with decay in this sarcophagus of cotton: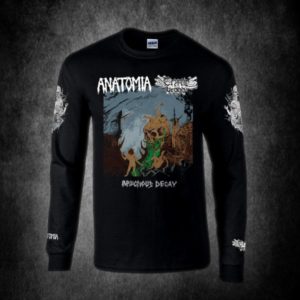 Shipping starts after returning from the tour – orders including the longsleeves maybe a bit later!
More info about both bands:
ANATOMIA
Bandcamp
Facebook
Instagram
metal-archives
CRYPTIC BROOD
Website
Bandcamp
Facebook
Instagram
metal-archives