CRYPTIC BROOD – "Caustic Fetid Vomit" EP on 7″ vinyl is available for ordering now! Get your copy from our shop!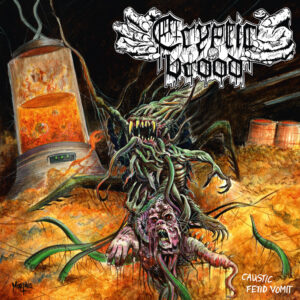 The brood is back from a year in morbid sleep with a new feral offering entitled "Caustic Fetid Vomit". A return of such cemetery stench and obnoxious science as befits the purveyors of the vile sides of the Death Metal spectrum.
As always, CRYPTIC BROOD spewing forth a delight for seasoned and new listeners alike, with an organic sound perfectly encapsulating what makes this German trio never lose their greatest strength—attaining a suffocatingly heavy music filled with reeking, gloomy atmosphere from their sonic signature, a colossal sound of rawness and madness.
What's certain is that time will melt away throughout eleven minutes of an endless putrid nightmare, rapidly expanding outward in every direction of the alternate dimensional horrific planes that these German fiends have been delivered.
In crafting the 7", the brood's funeral rite was recorded at s.v. Jugendhaus Ost in Wolfsburg. Mixed and mastered by the infamous Marco Brinkmann at Hellforge Studio. The twisted and yet sinister genius cover artwork appears courtesy of Mortuus Art.
And now, the cryptic seeds have been sown. Are you prepared to enter the Grave of the Brood?
All versions have poly-lined black inner-sleeves, 300gsm cover with 3mm spine and 170gsm insert plus Bandcamp download code:
500x on yellow vinyl with orange marble
100x on green vinyl (only available at their upcoming shows)
Catalogue number: LYNCH041
Release date: 30.09.2022
This is a co-release of
Bitter Loss Records (Australia)
Burning Coffin Records (South America)
Lycanthropic Chants (Europe)
Necrolatry Records (Asia)
Rotted Life Records (North America)
CRYPTIC BROOD
Website
Bandcamp
Facebook
Instagram
metal-archives