Live at s.v. Jugendhaus Ost in Wolfsburg on Friday, 26th August 2016:
REZET (Thrash Metal / Schleswig, GER)
SUFFOCATION OF SOUL (Thrash Metal / Poções, BRA)
SLEDGEHAMMER NOSEJOB (Death Metal / Hoogeveen, NLD)
DETHRASHION (Death/Thrash / Hannover, GER)
Start: 19:00 h
Charge: 10 EUR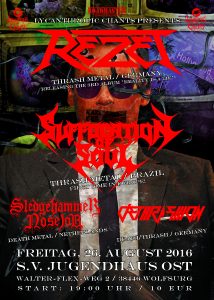 Lycanthropic Chants präsentiert am Freitag, den 26. August 2016 im s.v. Jugendhaus Ost in Wolfsburg ein tolles Paket bestehend aus vier Bands: Mit ihrer in Wolfsburg startender Europa-Tour bewerben REZET ihren dritten Langspieler. Thrash Metal wie aus den Zeiten der Entstehung dieses Genres wird hier ungezwungen, frisch und natürlich dargeboten. In den catchy Riffs hört man, dass die Band auch im zwölften Jahr ihres Bestehens noch hoch motiviert ist! Begleitet werden die Nordlichter von SUFFOCATION OF SOUL aus Brasilien. Auch hier wird Thrash Metal der alten Schule gespielt – beim Durchlauf deren aktuellen Albums frug ich mich einige Male, warum die großen Bands nicht mehr solche Alben veröffentlichen?! Außerdem freuen wir uns auf SLEDGEHAMMER NOSEJOB aus Hoogeveen in den Niederlanden. Neben zwei uns altbekannten Gesichtern der Band MASSIVE ASSAULT (welche bereits diverse Male in Wolfsburg spielten) sind hier noch zwei weitere Musiker anderer nicht unbekannter Bands aus dem Land der Tulpen im Boot. D-Beat getriebener Death Metal mit Schwedensound – mir werden die Knie weich! Beim lokalen Support DETHRASHION aus Hannover steht der erste Tonträger in den Startlöchern, es werden sicherlich ein paar Songs hiervon präsentiert! Wir sehen uns also am Freitag, den 26. August 2016 ab 19:00 Uhr gegen 10 EUR an der Abendkasse im selbsverwalteten Jugendhaus Ost in Wolfsburg.

Like A Wolf

s.