ARCANE FROST & Lycanthropic Chants präsentieren am Donnerstag,, den 25. Oktober 2018 im s.v. Jugendhaus Ost:
LIGHT OF THE MORNING STAR (Dark Rock/Metal / London, GBR)
VIDARGÄNGR (Black Metal / Leipzig, GER)
MORAST (Blackened Sludge / Düsseldorf, GER)
SUNKEN (Black Metal / Århus, DEN)
Beginnt: 19:00 Uhr
Kostet: 5+ EUR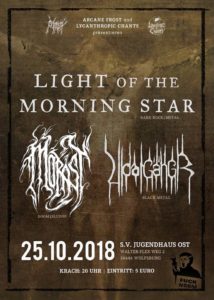 Weitere Infos demnächst!